USDA - IA Dept of Ag Market News
Watch newspapers for any cancellations of sales due to cattle numbers availability and starting times.
Phone: (712) 263-3149 Fax: (712) 263-2120
Sale Dates
RESCHEDULED PAULEY BROS SPRING MACHINERY CONSIGNMENT SALE
Vehicles - Household - Tools - Antique Sale (ck out photo gallery) Harold Segebart, Owner Denison
2019/2020 SPECIAL SALES SCHEDULE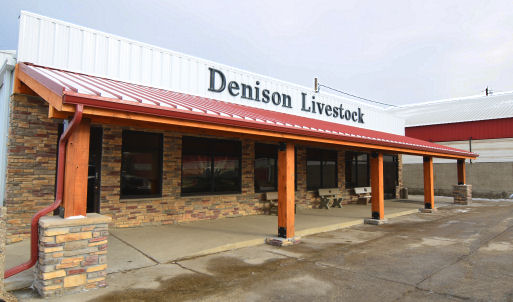 Regular sale every Saturday.
Hogs, sheep, and cattle starting at 8:30 a.m.
Misc., Hay, Farm Items and more starting at 9:00 a.m.
For more information see the Regular Saturday Sale info page.
Specials on Thursdays
---
Thursday, March 19, 2020
TO OUR VALUED FRIENDS AND CUSTOMERS:
We at Denison Livestock Auction are very proud to serve the Livestock Industry. One of our greatest concerns is for the health and safety of our employees and our customers. We know that the livelihood of our customers depends on us marketing their livestock, so in these times of the unknown, we are going to continue to have our Saturday Sales and our Special Cattle Sales which are on Thursday, March 26th and Thursday, April 9th and 23rd. However, we at Denison Livestock Auction are not taking this situation lightly. We are making some changes here at Denison Livestock and also asking for your help to help us implement these changes.
Farmers Café will be closed until further notice. Also to help protect the safety of our employees and buyers, we are asking that visitors stay away until this critical situation has been resolved. It would probably be in the best interest if all children would stay at home so that we can protect our future customers. But we will respect your decision.
Please check our website in the event of cancellation in any or all sales.
Thank you for your cooperation.
Sincerely, The Pauley's
Denison Livestock Auction, Erv Pauley Family